Quest Scholarship 2023 is here!
Each year, the Board of Directors offers a one-time $500 Scholarship to a full-time college student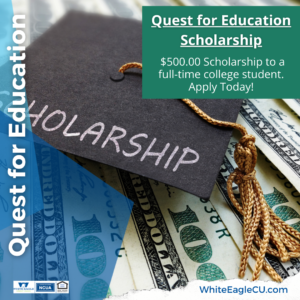 . The Quest Scholarship is a non-renewable award which is awarded to a credit union member, child or grandchild of a credit union member.
The applicant must be currently enrolled as a full-time student in a 2-year community college, an accredited 4-year university or graduate school.  Also, all applicants must  be planning to continue their pursuit of a higher education. (High school seniors, Class of 2023, are not eligible to apply). Applications will be available through the office and/or on-line from May 1, 2023 with an application deadline of June 30, 2023.
Please return completed application forms no later than June 30, 2023 to the branch nearest you . The Board of Directors of the White Eagle CU will then review the applications. The winner of the scholarship will be notified via phone and/or email. The 2023 Recipient of the scholarship will receive the monetary compensation for this award.  The 2023 Scholarship recipient will be required to provide proof of enrollment per the above guidelines along with copy of billing or payment of fees and tuition will be required.
If you have any questions, please contact Jamie Britain, Executive Administrative Assistant, at 316-775-7591 or jbritain@whiteeaglecu.com.
Download your application here or pick one up at any White Eagle branch.