Here are three ways to make car-shopping stress-free with WERide.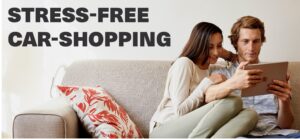 At White Eagle CU, we offer our members stress-free auto shopping with WERide.  We know that shopping for a new car is exciting. Whether you're upgrading from your current vehicle or just looking for a comparable replacement, it's fun to imagine yourself behind the wheel of a new ride.
However, if you're not exactly sure where to start looking (or what you're looking for), you may feel overwhelmed with options. Don't worry, here are some smart tips to make car-shopping stress-free:
SHOP ONLINE

Shopping online helps you be more efficient. You can browse inventory from auto dealers in your area (or expand your search to other regions) from the comfort of your own home. By streamlining your research during the discovery phase of finding a car, you'll save valuable time.
USE SIMPLE TOOLS TO FIND YOUR IDEAL CAR

Want to search for your car based on personal preferences? An online resource like WERide can help you align your ideal options with available inventory. Choose your make, model, color, and more, and match it with a car at auto dealer near you. It's a stress-free alternative when you're not able to visit multiple auto dealerships in person.
SHOP AND COMPARE FOR YOUR BEST DEAL
By comparison shopping online, you can easily review each auto dealer's pricing, specs, and features—all without ever leaving your home. This will help you narrow your options and determine which car, truck, or SUV meets your needs, and your budget.
Want to simplify your car-shopping experience? Check out WERide, a free online marketplace for our members.  And don't forget to get pre-approved today for your auto loan.  We offer low auto loan rates.  Give us a call today or start the process online.