88th Annual Meeting and Dinner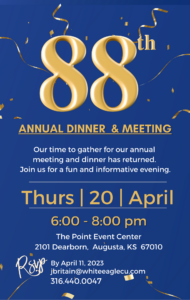 Our time to gather for our annual meeting and dinner has returned.
Join us for a fun and informative evening.
April 20, 2023
6:00 – 8pm
2101 Dearborn St, Augusta, KS  67010
Please RSVP by April 11, 2023 via email to:  jbritain@whiteeaglecu.com or call: 316.440.0047.