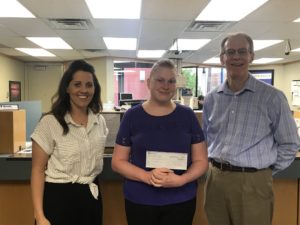 White Eagle Credit Union presented a check to the Saint Francis Ministries.  Saint Francis Ministries serves children and families, young adults and refugees with a variety of programs aimed at doing the most good.
Since 1945, Saint Francis Ministries has been dedicated to the needs of children and youth.  They advocate for them and work to protect them while doing their best to ensure that every child we serve gets a chance at a happy and fulfilling life.
As a non-profit, faith-based organization, St Francis Ministries place great stock in the value of both traditional and non-traditional families and believe strong families make children's lives better. What began as a home for boys on the Kansas prairie is now a multi-faceted child and family services ministry serving over 31,000 people in Kansas, Mississippi, Nebraska, Oklahoma, Illinois, Texas, El Salvador, and Honduras with a broad range of programs and services.
St Francis Ministries helps strengthen and heal families while providing for the health and security of children. Though rooted in the Episcopal tradition, Saint Francis Ministries is an independent not-for-profit organization dedicated to the protection, nurturing, and healing of children and families in body, mind, and spirit. To that end, while partnering with government agencies in supporting children and families in crisis, Saint Francis Ministries honors religious freedom and is also committed to allowing children and families in its care to participate in religious activities on a voluntary basis.  For more information please visit:  https://saintfrancisministries.org/