Don't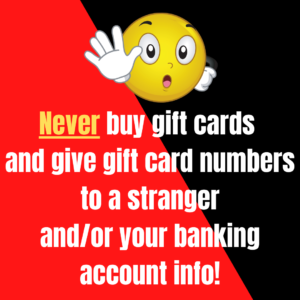 fall for Gift Card Scam.  Gift cards are for gifts, not for payments.
If someone calls with urgent news or a convincing story and pressures you to pay them by buying a gift card, like an iTunes, WalMart, or Google Play card, and want you to give them the codes on the back of the card – stop. It's a scam.  Here are couple scenarios that scammers may use.
A scammer calls and pretends to be from a government agency.  Such as IRS or Social Security. The scammer says that you owe money for taxes, bail money, debt collection, and more. They then tell you have to pay them with gift cards.
A scammer claims to be a family member in trouble or someone you know. The scammer tells you that they need to be paid in gift cards in order to remedy the situation. Don't believe them. Never buy gift cards for them or provide them with any gift card codes.
You receive an email that looks like it from someone you know i.e.: your boss, mother, spouse, friend, family member and the person asks you to go buy gift cards and give them the code on back…. STOP!  It's a scam.
Let's make some quick money scam.  You are short on money and you see the "Make Quick Money" advertisement. Beware this is a scam.   The way it works:  The scammer is always excited when someone answers their ad. All you have to do is buy them a few gift cards.  They will deposit money in your account for the cards plus a few extra dollars for your time.  However, they need your banking information in order to deposit the money.  DO NOT GIVE THEM YOUR INFORMATION.  It is a SCAM.
If you are ever in doubt if something is correct.  Just stop.  Give us a call and whatever you do… do not share your personal information and banking information.  Thank you.
If you're a victim of a gift card scam – report it. You can also report the scam to the Federal Trade Commission.
Also, share your experience.  There are many ways to help prevent others from falling victim by reporting the scam and sharing your experience via social Medias and also on Google.