A single gift can bring so much joy!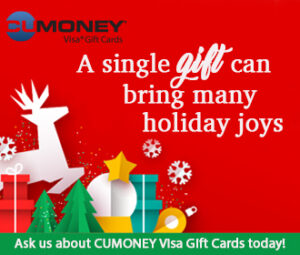 Let White Eagle help you simplify your holiday shopping this year with CUMONEY® Visa® Gift Cards.
CUMONEY® Visa® Gift Cards can help you simplify your to do list. They are the perfect gift for each person on your list.  We have a new selection of designs that you can choose from too.
This year, share the wonder of the holiday season with a gift that can open up a world of possibilities for everyone on your list. Stop in at one of our branches in Augusta, El Dorado or Newton today.

Check out our other options for gift cards:  Credit/Debit/Travel/Gift Cards.