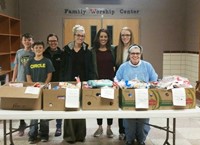 White Eagle CU – El Dorado held a food drive for Thanksgiving Blessing Meal Boxes.  Staff took the food items and helped package the Thanksgiving Blessing Meal boxes this past week. Thank you to all who brought food items to the White Eagle – El Dorado branch. Your donations helped assist the Family Worship Center provide Thanksgiving Blessing meal boxes in the El Dorado community area.
Did you know? The Meals Ministry and Pantry in El Dorado provides home made hot meals to anyone every Tuesdays & Thursdays at 5:30 PM in FWC dining room. Wednesday night meals are provided at 6:15 PM for kids & teens.
Food Pantry open 2nd Tuesday of each month 11 AM -2 PM.
For more information regarding the meal and pantry program and/or to volunteer call 316.321.3127