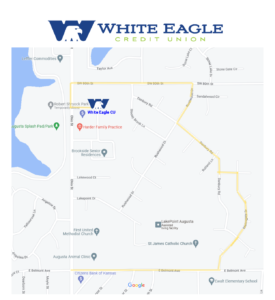 Alternative Route to Augusta WECU Branch.  Road construction on Ohio Street has begun here in Augusta.  Here is an alternative route when heading North on Ohio.
Turn Right (East) on Belmont Ave until you reach Mainsgate Drive on your left. Take Mainsgate curving until you come to Danbury Road. Turn Left on Danbury then right on Rushwood. This will take you to the stop sign at David Street (SW 80th). Turn Left (West) on David until you reach Ohio and then turn left (South) on Ohio to White Eagle CU.
Our mobile app and WEOline Services are always available for your convenience along with Docusign for loans and other paperwork.