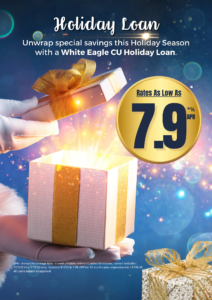 Spread more magic this Holiday Season when you unwrap special savings with a White Eagle CU Holiday Loan.  With the holidays and festive seasoning fast approaching, you may be wondering how you are going to pay for everything.  It is a wonderful time of the year to spend with family and friends and it can also be a stressful time for your budget.  Plan ahead to reduce the stress and enjoy all the festivities with a 2022 Holiday Signature Loan.
For a limited time you can apply for a Holiday Signature Loan with rates as low as 7.9%.  Apply between November 1, 2022 to January 15, 2023.  Apply today!
*APR – Annual Percentage Rate.  Lowest possible APR for Qualified Borrowers. Limited time offer:  11/1/22 thru 1/15/23 only.  Example $1200 @ 7.9% APR for 12 months plus origination fee = $105.38. *All loans subject to approval.
Don't forget to check out our other Holiday Specials.