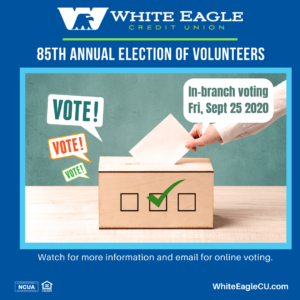 Update:  Monday, Sept 21, 2020
An email with a link to the election page has been sent out.  If you did not receive this and wish to vote online, please contact us with your correct email address.  Thank you
.
WECU will hold the 2020 Board of Volunteers Election via online voting and in-branch voting at open houses.
The 85th Annual Voting of the Board of Volunteers will take place this month and we would love to have your input/vote. Due to the ongoing Covid-19 precautions, we have elected to cancel the 2020 Annual Meeting and Dinner. Please watch social media, our website and your emails for more information.
We will be sending out emails on Mon, Sept. 21, 2020 with links to cast your vote online.
Open Houses at each branch on Friday, Sept. 25, 2020 (with social distancing precautions) where you will be able to cast your vote in-person.
Voting will close at 6:00 pm on Friday, Sept. 25, 2020.
* Please note – one vote per member.  Thank you.