Thanksgiving and Gratitude
"As we express our gratitude, we must never forget that the highest appreciation is not to utter words, but to live by them." – John F Kennedy
Thanksgiving and Gratitude for our members and the communities we serve.
This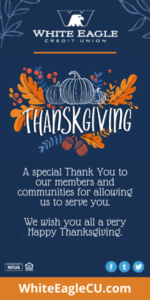 is the time of year that we take time to acknowledge the things that we are thankful for.  Things like family, friends, health, and also the things we take for granted.  With the current pandemic that we are going through we pray for those that feel isolated and lonely.  We encourage you to reach out to someone you know that is in this position.
Also, we want to thank our members and our communities for allowing us to serve you.  We wish you all a very Happy Thanksgiving.  Stay safe and stay healthy.
Best regards, Rick Blue – President