Spreading Holiday Cheer in 2020
Spreading Holiday Cheer in 2020 to our communities is a must here at White Eagle Credit Union.
Recently we brought some holiday cheer to our friends in the Covid Unit at LakePoint Nursing Home in Augusta.  We delivered 27 holiday gift bags for patients and nurses there.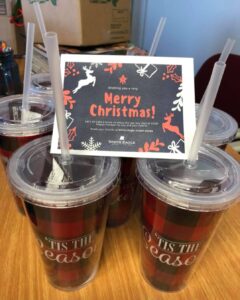 On Tuesday, 12/1 – Giving Tuesday 2020, we delivered Holiday Cups filled with goodies along with signed cards for the 80 Holiday bags to the Butler County Dept. of Aging. The Butler County Department of Aging will be distributing them to shut-ins during December.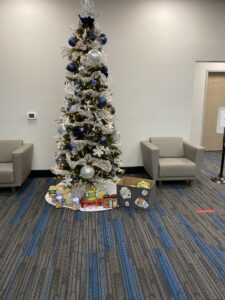 Our El Dorado branch is currently taking food donations (non-perishable items only) for the Salvation Army. Give them a call at (316)320-7649 to schedule a time to drop off.
Next on our list will be our JAG kids and their annual Christmas party and gathering Christmas gifts for 6 families in need in Augusta.
Don't forget to watch here and social media for other ways we will be spreading Holiday Cheer.  We wish you a very nice holiday season and Merry Christmas.  Stay safe and healthy.