Giving to Meals on Wheels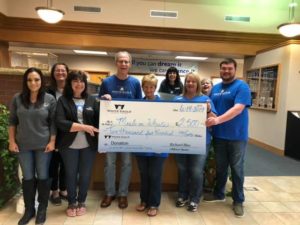 White Eagle presented a check to Meals on Wheels on Friday, June 14, 2019.
Meals on Wheels delivers a hot, nutritious noon meal to home-bound people age 60 + each weekday. More than just a meal the program provides a friendly, familiar face at the doors of home-bound people every day. Family members and friends are rest assured when they cannot check up on their loved ones, the Meals on Wheels volunteer will be there for them. And for the tax paying public, Meals on Wheels saves valuable financial resources. The cost to deliver Meals on Wheels to one senior for one year is $1,900. Placement in a state funded nursing facility costs the taxpayer up to $40,000 per placement. Meals on Wheels is a valuable lifeline for many people who have difficulty advocating for themselves.
#GivingBack #Community #MealsonWheels