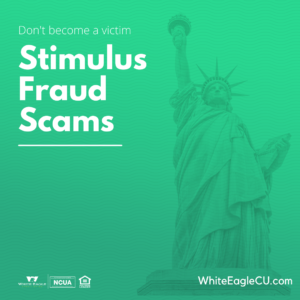 Should I be worried about stimulus payment scams?
New stimulus checks are in the works which means fraudsters are working on new scams. Scams are always a concern when money is involved, so you should be on the lookout. Some possible scams include:
Emails or texts that try to get you to click on a link that then takes you to a form that asks you for personal information so you can get any payment that you are owed. Do not respond to any email or text asking for personal information.
Phone calls where someone claims to be from a federal agency such as the IRS or Treasury Department. Never assume an incoming call is from an authorized person especially if they are asking for personal information.
People who contact you claiming that you can get your payment faster by paying a small fee by using either a gift card or prepaid debit card. Always be cautious when working with any person or business you do not know or cannot verify.
Someone calls you and demands personal information such as bank account numbers or your Social Security number right away or you'll lose your benefits. This is almost always a sure sign of a scam.
In general, you should be aware that federal agencies won't ask you to pay anything up front to get your payment, and they won't call, email, text, or reach out to you via social media to request your bank account or Social Security number, or to verify personal information.
Will my financial institution know when I am scheduled to receive my stimulus payment?
The answer is no. White Eagle CU does not know when you are scheduled to receive your stimulus payment. Those payments are issued by the IRS, not your financial institution. You can visit the Get My Payment site at IRS.gov for more details, including the status of the payment, and a link to many frequently asked questions.
For the most current information about stimulus payments, visit IRS.gov.