Join our team at White Eagle Credit Union. White Eagle offers a friendly and challenging environment in which to grow, both personally and professionally.  We are located in Augusta,  El Dorado and Newton.  White Eagle offers frequent opportunities to join our growing team.  Download an application today and submit it to HR@Whiteeaglecu.com.
Need help reading and or opening the Newsletters?  Click the link for the adobe reader  –  https://get.adobe.com/reader/  
Now Hiring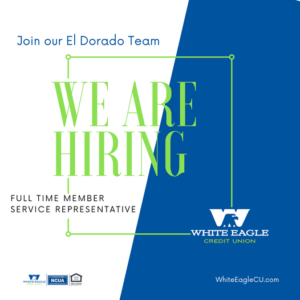 We are currently accepting applications at our El Dorado  Branch location for a Full-Time Member Service Representative.  Please send resume to: Kpeck@WhiteEagleCU.com.  Thank you!